A visit to Changi Prison Chapel and Museum is an effective way to get a slice of Singapore's harrowing war past. Built to memorialize the brave prisoners of Changi who had to endure horrific conditions in the Second World War, Changi Prison Chapel is a replica of the chapel that was erected by Australian prisoners of war during the Japanese Occupation from 1942 to 1945. More than 50,000 civilians as well as Australian and British soldiers were incarcerated in Changi Prison.
Even though the original chapel was dismantled and dispatched to Australia, the Singapore Tourist Promotion Board, in conjunction with the Singapore Prison Service, constructed the replica chapel adjacent to Changi Prison in 1988, as a result of the deep interest shown by ex-prisoners of war and the general public. Later, Changi Prison Chapel and Museum was shifted to the present location in 2001 when the Changi Prison was rebuilt and expanded.
Interested in this tour? Book it here.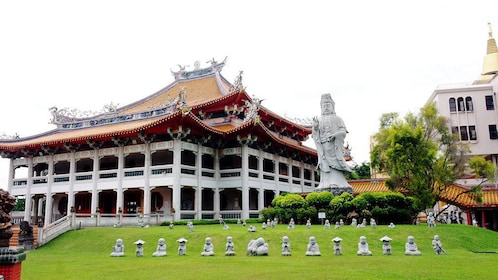 per adult
Free cancellation
Book
As a monument to the detainees who died during the Second World War, Changi Prison Chapel and Museum showcases a heart-rending assortment of paintings, letters, drawings and photographs that depict the pain and torment of civilians and soldiers through their ailments, hunger, humiliation and loss of freedom. One of its most poignant displays is the 'Changi Murals' that include a series of paintings based on Biblical themes by Stanley Warren – a British airman that was held at the Changi Prison. These murals were finished using limited materials and served as a gripping source to fortify the bleak spirits of the prison chapel.
Most of the museum's exhibits were donated by former prisoners of war and their families, such as William Haxworth's paintings and sketches, which in turn provide a deep insight into the prisoners' daily life during the Japanese occupation. Another highlight of the museum is the video shows in the form of 'Changi Through the Eyes of Hazworth' and 'Elizabeth Choy.' Further, the museum is home to a rare collection of literary works that throws light on the stark realities of life during WWII. Above all, the chapel, housed within in the patio, conducts services every Sunday from 17:30 to 19:00.
Changi Prison Chapel & Museum
Opening Hours: Daily 09:30 - 17:00 (last admission at 16:30)
Address: 1000 Upper Changi Road North, Singapore 507707
Tel: +65 6214 2451
Price Range: No admission fee
How to get there: After getting off at Tanah Merah MRT station, take SBS Bus 2 that will drop you right in front of Changi Prison Chapel and Museum.
Rate This Place:
( votes)