Chinatown in Singapore is a sharp contrast to the rest of the city, with low rise buildings and culture bursting out onto the streets, from the fragrant smells of traditional cuisine to the bold red and gold tones that run through the neighbourhood.
This is an area that's proud of its heritage and has it very much on display. There are ornate Chinese, Buddhist and Hindu temples, museums galore and plenty of opportunities to soak up the bustling streets lined with old shophouses.
Interested in this tour? Book it here.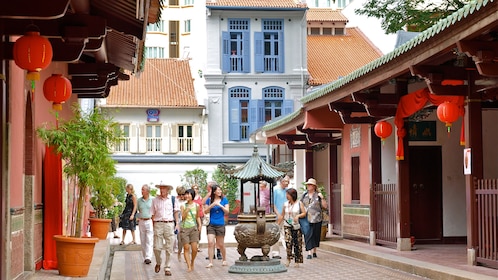 per adult
Free cancellation
Book
The Buddha Tooth Relic Temple is a remarkable 4-storey temple. When entering the gate, you'll immediately notice the stunning main hall with its high ceiling. The bell tower and drum tower are on the same floor.
The main focus for most visitors is the solid gold 2-metre stupa on the 4th floor which is the place where the sacred relic is kept. Continuing up to the roof, there is a pagoda that has a large prayer wheel. The temple is built in a style based on the Buddhist mandala and integrated with the Buddhism of the Tang dynasty. Read More...
Opening Hours: Daily from 9am to 6.30pm
Location: 288 South Bridge Road, Singapore 058840, Singapore
Tel: +65 6220 0220
As the oldest shrine in Singapore, Sri Mariamman Temple is also one of the most prominent places of worship for Tamil Hindus in the country. It was built to honour Goddess Mariamman – the deity of disease and protection.
Originally erected by Naraina Pillai – an Indian trader from Penang – in 1827, the temple was modified to its present structure in 1862, although it has undergone several renovations since. Apart from being a place of worship, the temple has also acted as an asylum for new immigrants that belong to South Indian Tamil Hindu community. Read More...
Opening Hours: Daily from 7am to midday and from 6pm to 9pm
Location: 244 S Bridge Road, Singapore 058793, Singapore
Tel: +65 6223 4064
There are plenty of sky-high views in the city, but The Pinnacle @Duxton is a little different. Located on top of the world's tallest residential building, it costs only S$5 to admire the vista which is usually very quiet, especially as there is a cap on the number of people who can visit daily (200, so as to not disturb those who live there).
This is the tallest building around, so you can see far and wide, across Chinatown and towards Sentosa Island. To climb to the viewing platform you need an EZ-Link card, which is used for public transport around the city. Read More...
Opening Hours: Daily from 8am to 5pm (Saturdays until 1pm)
Location: 1G Cantonment Rd, Singapore 085301, Singapore
Tel: +65 8683 7760
Red Dot Design Museum will make you look at everyday objects in a different light. Taking the mystery out of innovations that make our life easier and exploring some of the more unusual gizmos and gadgets, it is easy to spend an hour or so here.
Although it's a fairly small gallery, the spectrum of design is large and varied; everything from advertising posters, packaging, computers to household appliances. Read More...
Opening Hours: Monday–Thursday from 10am to 8pm, Friday–Sunday from 10am to 11pm
Location: 11 Marina Blvd, Singapore 018940, Singapore
Tel: +65 6514 0111
These busy streets encapsulate all the sights and sounds that visitors expect of Chinatown, with hundreds of stalls selling everything from silk robes to lucky cats. There are plenty of 'Made in China' goods on display and lanterns swaying in the breeze above your head. There's also a fantastic range of street food carts amongst the shopping, with fresh dim sum and crispy duck.
Remember to haggle with a smile if you want the best price. The market is open during the day, but it looks its most picturesque at dusk, with the lights shining brightly and the sound of hawkers tempting you to check out their wares. Read More...
Opening Hours: Daily from 11am to 11pm
Location: 335 Smith Street, Chinatown, Singapore
Thian Hock Keng, or the Temple of Heavenly Happiness, is the oldest and probably most interesting Chinese temple in Singapore. Built circa 1820, this Taoist-Buddhist temple was dedicated to Ma Zu Po, the Mother of Heavenly Sages and the protector of sailors. You can find this colourful temple along Telok Ayer Street, in the middle of Chinatown.
Formerly at the waterfront, before Singapore embarked on its land reclamation, was where many sailors and early settlers came to offer thanks for a safe journey by sea. The temple boasts elaborately painted doors, as well as highly-decorated beams and gold-leafed panels.
Opening Hours: Daily from 7.30am to 5.30pm
Location: 158 Telok Ayer Street, Singapore 068613, Singapore
Tel: +65 6423 4616
Hong Lim Park is a small park in the centre of Chinatown that is famous for being the only place in Singapore where you can openly speak your mind. Well, as you long you stick to all the rules, which include: being Singaporean, not mentioning religion and making sure you have told the police you plan to speak.
Protests often take place here too. There's usually not much going on during the week, although it is a nice spot to relax outside in the shade. Come at the weekends to see the cheery debates. Read More...
Location: New Bridge Rd, Singapore 059299, Singapore
Rome wasn't built in a day, and neither was Singapore. If you want to know a little more about how the government manage to squeeze all these people onto one tiny island without ending on top of each other, the Singapore City Gallery is the place to go.
Opened in 1999, the gallery aims to teach visitors how modern Singapore came to be, and how the city planners continue to plan sustainably. The most impressive part of the gallery is the Central Area Model. With a scale of 1:400 it is a miniature version of the centre of Singapore in 3D.
Opening Hours: Monday–Saturday from 9am to 5pm (closed on Sundays)
Location: 45 Maxwell Rd, The URA Centre, Singapore 069118, Singapore
Tel: +65 6321 8321
You won't have any problem finding Baba House. Even in an area filled with shophouses that have ornate facades, the blue house stands out on Neil Road, thanks to an ornate entrance door covered in gold leaf. In the 19th century, this house was owned by a Chinese shipping tycoon and has now become a museum dedicated to Peranakan culture.
Most of the furniture inside belongs to the house, and it's interesting to get the opportunity to see the house as it would have been a hundred years ago. Call the number below to arrange a visit, as guided tours are by appointment only.
Opening Hours: Tuesday–Saturday from 10am to 6pm (closed Monday–Sunday)
Location: 157 Neil Rd, Singapore 088883, Singapore
Tel: +65 6227 5731
Rate This Place:
( votes)