Many of the best things to do in Little India Singapore are within walking distance from one another, meaning that you can explore this bustling neighbourhood within a day or two. Located east of the Singapore River, it's one of the smallest districts in Singapore so walking and cycling are the best ways of getting around.
You'll be surrounded by plenty of religious sites, such as Hindu and Buddhist temples, as well as a mosque dating back to the 19th century. In this list of things to do in Little India, we've also got you covered on shopping – one of Singapore's most popular pastimes.
Interested in this tour? Book it here.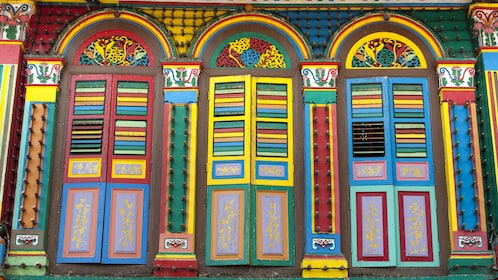 per adult
Free cancellation
Book
1
Sri Veeramakaliamman Temple
Sri Veeramakaliamman is one of the prettiest and busiest temples in Little India. Located on Sarangoon Road, this 19th-century Hindu temple dates all the way back to the 19th century, with facilities such as a wedding and multipurpose hall.
With hundreds of tiny colourful statues blanketing the exterior temple structure, Sri Veeramakaliamman is quite a popular photography spot. Inside is just as impressive – expect a large crowds paying their respects on Tuesdays, Fridays and Sundays. Entrance is free, but dress respectfully and take your shoes off before stepping inside the temple.
Opening Hours: Tuesday from 5.30am to 12.15pm and from 2.30pm to 9pm, Wednesday–Monday from 5.30am to 12.15pm and from 4pm to 9pm
Address: 141 Serangoon Road, Singapore 218042
Tel: +65 6293 4634
The House of Tan Teng Niah is a colourful 2-storey villa dating back to 1900. Located on Kerbau Road, It's one of few remaining Chinese structures in Little India that were built during the colonialization of Singapore.
The local community is responsible for the rainbow of colours that the House of Tan Teng Niah is so famous for, as well as its renovation and upkeep. After snapping some photos of the villa, grab yourself a biryani meal in the nearby courtyard for a particularly picturesque al fresco dining.
Opening Hours: 24/7
Address: 37 Kerbau Road, Singapore 219168
To the untrained eye, Sri Srinivasa Perumal Temple might look similar to Sri Veeramakaliamman, just down the road. The exterior features all those intricately designed Hindu relics which cling to the main structure – or Gopuram – and the whole building is just as colourful.
The temple is dedicated to Krishna, one of the incarnations of Vishnu. You'll also see statues of other Hindu deities, including Mahalakshmi, Murugan, and Anjaneyar. Sri Srinivasa Perumal Temple serves the local community with daily Pooja (worship sessions) in the mornings and evenings. Read More...
Opening Hours: Daily from 6.15am to 12pm and from 6pm to 9pm
Address: 397 Serangoon Road, Singapore 218123
Tel: +65 6298 5771
Mustafa Centre is a 24-hour shopping mall that offers designer products at low prices. Shopping at this mall is akin to shopping at an indoor market – narrow aisles jam-packed with all manner of products.
Sure, it's messy, a little disorganised, and packed every day, but if you come in search of a specific item you can't find anywhere else in town, you might just find an entire aisle dedicated to it at Mustafa Centre. Read More...
Opening Hours: 24/7
Address: 145 Syed Alwi Road, Singapore, 207704
Tel: +65 6295 5855
The Sakya Muni Buddha Gaya Temple was built in the 1927 by a Thai monk, and the Siamese influences are clear to be seen throughout The main feature of this Buddhist temple is a 15-metre-tall Buddha statue that weighs about 300 tonnes.
It's often called the Temple of 1,000 Lights, thanks to the chain of lamps surrounding the statue. Located between the Little India and Farrar Park MRT stations, entrance to Sakya Muni Buddha Gaya Temple is free but do dress modestly out of respect for the worshippers.
Opening Hours: Daily from 8am to 4.30pm
Address: 366 Race Course Road, Singapore 218638
Tel: +65 6294 0714
Rate This Place:
( votes)